This is my first time writing a blog...so exciting. I really don't know what I want to write about first...
So I guess my first blog will be about introducing my munchkins.
Our first is ~ The Princess: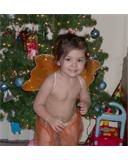 She was born on October 30, 2006 at 1:26 A.M. She was 7 lbs 14 ounces and 21 inches long. She just turned 3 years old, and is such a
DIVA
. She never wants to get anything dirty, and everything has to be hers. All of the toys...well pretty much everything that exists in the house. She is now fully potty trained...YAY! She still has some accidents, but she is getting better. She
loves
wearing her 'big girl' panties...but if she had the choice she would wear nothing. lol. She is a very smart little girl, and she amazes me everyday with everything that she knows and says. She absolutely adores her little brother and she acts like she is a little mommy.
Our second is ~ The Prince:
He was born on June 11, 2008 at 9:48 A.M. My little boy was 8 lbs. 3 ounces and 19.5 inches long. He will crawl, walk, run and jump everywhere. He gets into everything...he sure enough keeps me on my toes. He
loves
to climb on everything, and it scares me half to death. He is learning more and more words every day. His favorite right now is "no" and "mine"...lol. He is growing up so fast. :( He loves playing with his toy cars and balls...and when his sister has those toys there will be a fight.
They really do love each other...they just fight like every other brother and sister do. When they are being nice to each other...they are inseparable. My little princess will stick up for her brother, and make sure he is okay.
Well I guess this is it for my first blog. :)
MommaJenn